Explainer
Geo-Targeted Marketing Explained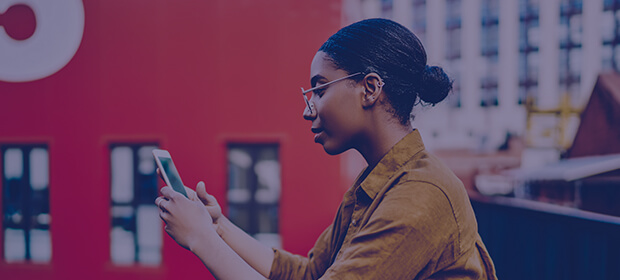 What Is Geo-Targeted Marketing?
Geo targeting is the practice of delivering advertising content within a defined geographic boundary to customers who meet specified criteria. In addition to targeting people within a defined radius, geo-targeted marketing allows brands to hone in on users based on behaviors and demographics. For example, ads can be delivered to segments of your mobile app audience when they are near a brick and mortar store. Geo targeting can also exclude audiences and locations that you don't want to target. The result? Highly personalized and relevant messages that can drive significant engagement and ROI.
Geo Targeting vs. Geofencing
Geofencing and geo targeting are both types of location-based marketing. Geofencing is often associated with Radar's platform or Gimbal's beacon technology. It involves defining a specific geographic parameter, known as a "fence" and delivering ads to all users within that radius. Geo targeting takes this concept further in that it uses behavior and demographic data to more narrowly target a defined audience within a geo radius. For example, a retailer could target push notifications to female app users who are near a store and have purchased women's shoes in the past. This powerful combination of behavior and location data provides yet another layer to marketers' ability to provide a tailored contextual experience for customers.
Benefits of Geo Targeting
Geo targeting empowers you to focus on the areas where you'll find the right customers, and exclude areas where you won't. It also allows you to run different ads in different locations, which can be optimized for the distinct audiences in each place. Consumers often experience this through Google PPC advertising, which serves different and often local content depending on where you are located.
Additional benefits include:
Personalization: Allows personalized content marketing to increase engagement
Reduced acquisition costs: Reduces average cost-per-click (CPC), supports increased conversions and makes campaigns more cost effective
More accurate targeting: Reaches users who live or move about in a certain area, making content more relevant to customers while reducing wasted impressions and clicks
Enhanced UX: Enables companies to engage customers at the time and place they are most wanted, delivering a more valuable in brand-defining moments
Boost local SEO: Provides customers with locally relevant search results
Competitive advantage: Enables you to hide ads from your competitors based on their IP address
How Does Geo Targeting Work?
The key to geo-targeted marketing is location data such as country, city, zip code, IP address, or device ID. With traditional location-based advertising, advertisers serve or restrict ads in specific locations to focus their ad spend on the places their customers are located. However, the mobile era has allowed marketers to get even more targeted and reach customers wherever they are based on individual users' GPS and proximity to local "beacons," which receive information from nearby devices via bluetooth. So, when a customer opts into location sharing on a mobile app and enters one of those defined areas, you can use automation to trigger relevant personalized ads, push notifications or other content.
Additional granularity is achieved when this location data is combined with demographics and other customer intelligence gleaned from app activity and mobile search behavior. This allows you to target ads not only to people in a location, but to people who've shown interest in a location, a product or a service relevant to your business. For example, if a customer regularly orders their lattes through your app, you can use geo targeted marketing to deliver personalized offers and information tailored to their coffee preferences and the location where they pick those lattes up. This creates a powerfully cohesive digital and in-store experience for your customers.
Geo Targeting Use Cases
Create an amazing on-site experience: The Sacramento Kings provide an extra special on-site game-day experience for attendees via personalized notifications paired with location awareness. When fans approach Golden 1 Center, the app sends personalized greetings to their lock screens. To accomplish this, the Kings use Airship's personalization templates in tandem with Real-Time Data Streaming, which "listens" for any devices that come into proximity of a beacon in or around the arena. The combined solutions pull information about an individual user (from the team's third-party data vendor) and automatically create a personalized message nearly instantaneously. The Kings can also configure the template to include other personalized information such as favorite player, ticket-holder status and more. Unique and engaging notifications drive fans to use the app in the arena to guide their experience and see up to a 41% indirect open rate.
Creating a highly personalized digital experience for event attendees: The South by Southwest (SXSW) conference in Austin, Texas, connected a mobile wallet pass with the SXSW GO app to unite the entire digital experience, while boosting mobile engagement. The app offered guests an easy way to browse lineups, build their personal schedules and see which sessions their friends were attending. With Gimbal's location intelligence and Airship's mobile engagement capabilities integrated into the app, attendees also received Guest Pass event alerts and personalized recommendations based on their location and schedules. Over 1,300 strategically placed beacons led to the delivery of 415,000+ location-triggered notifications — allowing SXSW to understand how attendees interacted with their festival.
Increasing engagement through location targeting: William Hill, one of the world's most established sports betting outlets, uses location-based push notifications to send targeted offers, such as a free bet, based on the user's location. Sent using segmentation tags and location profiles, William Hill's location-targeted messages achieve 400% greater engagement than non-targeted messages. Alex Rutherfod, head of mobile sportsbook, explains that William Hill's push notification strategy "is to not overwhelm the customer, but ensure at all times that every message they receive is absolutely relevant."
Delivering real-time, location-based offers: GasBuddy, which helps its app users find the best gas prices, has partnered with dozens of major brands for its popular GasBack rewards program. The company integrates Radar with Airship to trigger automated push notifications based on user location events. Every time mobile app users enter a geofenced retail location, they automatically get a limited-time GasBack offer on their lock screen.
With geo-targeted marketing, companies can be there for customers at the time and place they are most wanted — the precise moments that truly define their relationship with your brand. Want to learn more about how geo-targeted marketing can deliver personalized, loyalty winning experiences? Contact us today!
Get Personal
We can help you with your geo-targeted marketing strategy
Contact us today!