Webinar
Unlock the Upside of Tickets & Boarding Passes With Mobile Wallet
If the form doesn't render correctly, kindly disable the ad blocker on your browser and refresh the page.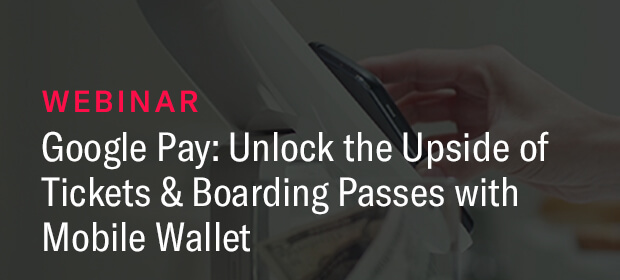 With Google Pay's new support for tickets and boarding passes in mobile wallet, there's never been a better time to give your customers what they want: a way better experience whenever they go to an event or get on a plane.
Watch this on-demand webinar featuring Bon Mercado with Google Pay and Jonathan Rueda with Urban Airship to get up to speed on the key ways mobile wallet can unlock new revenue streams for your brand, and create a magical experience for your customers — no app required. You'll come away knowing how to:
Leverage the unique features and functions of mobile wallet to make boarding passes and tickets come to life, driving more revenue, streamlining management and delivering a better customer experience
Get up and running fast, leveraging Urban Airship's deep mobile wallet experience, adaptive links, and marketer-friendly UI
Estimate the business value of offering mobile wallet boarding passes and tickets for your brand
Whether your brand's been considering mobile wallet for some time, or it's all new to you, join us and get up to speed on the new world of possibilities. Your customers will thank you.