Join Airship at Radar IRL | Building the Future of Location Together
Apply Now
If the form doesn't render correctly, kindly disable the ad blocker on your browser and refresh the page.
Details
Date:
Thursday September 21, 2023
Location:
Manhatta, 28 Liberty Street, 60th Floor, New York, NY 10005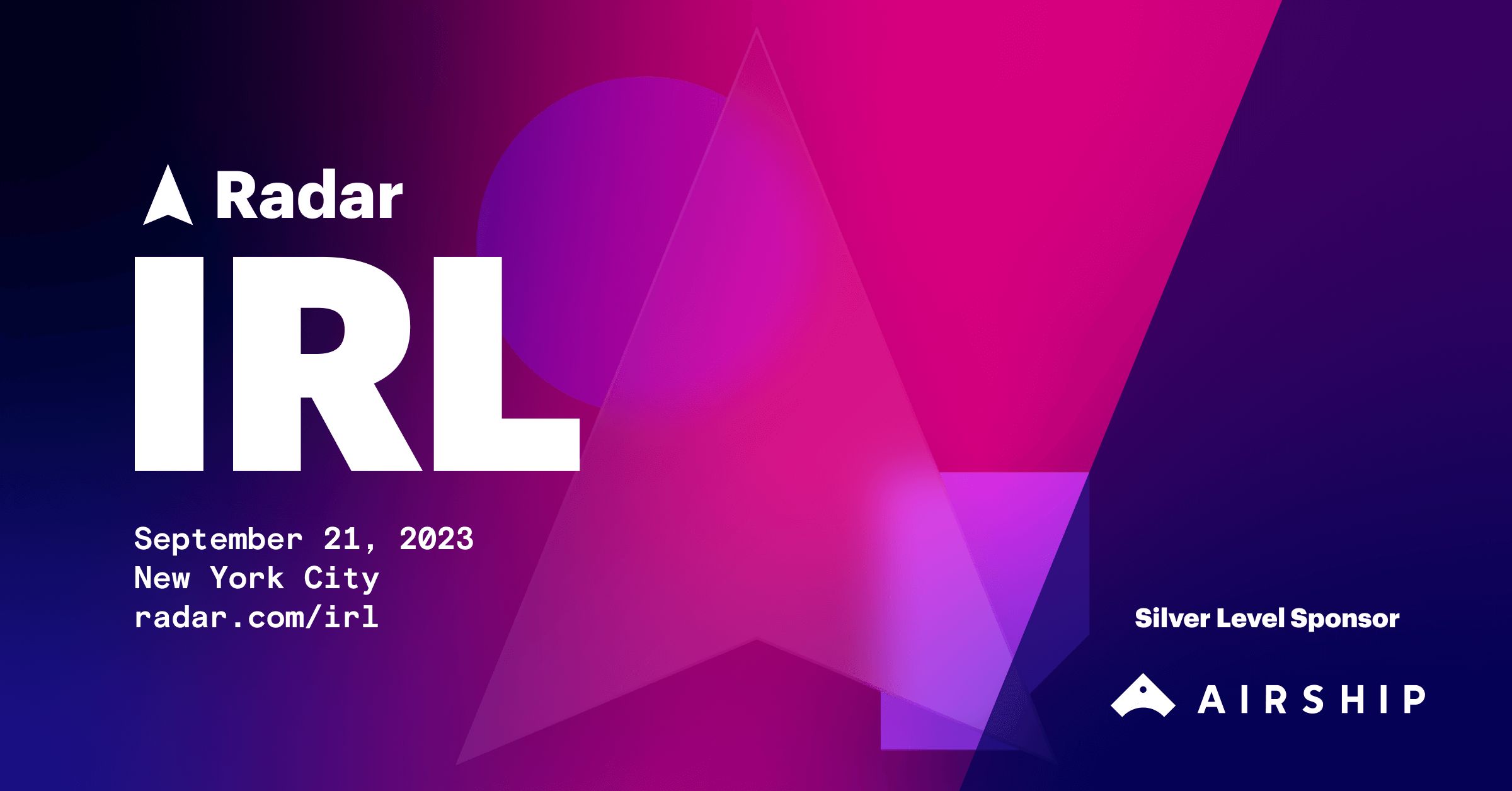 Join Airship on Sept 21 at Radar IRL in New York City's iconic Manhatta.
Radar IRL is a half-day summit where product and growth leaders from every industry — retail to QSR to payments to travel — meet to discover and discuss the latest in location marketing.
This is an intimate, exclusive event, so please apply here for a ticket from Airship and we will get back to you regarding availability.
Agenda:
1:30pm Keynote: Mapping the future of IRL experiences and location tech. Speaker: Nick Patrick, Co-founder and CEO, Radar.
2:00pm QSR spotlight: Reimagining restaurant concepts with geofencing. Speakers: Sergio Pérez, Senior Director of omnichannel, Bojangles; Coby Berman, Co-founder and COO, Radar.
2:30pm Retail panel: Reinventing in-store shopping experiences with mobile. Speakers: Matt Walker, Group Product Manager, DICK's Sporting Goods; Carly Pietrobono, VP of Customer Success, Radar.
3:15pm Startup spotlight: From zero to one with location tech. Speaker: Aliza Rosen, Co-Founder and CEO, Rex.
3:45pm Partner panel: Doing more with less in the year of efficiency. Speakers: Dave Goldstein, VP of Global Solutions Alliances; Brian McHugh, VP of Solution Engineering, mParticle; Dave Wisdom, VP of Solutions and Strategy, Bloomreach; Coby Berman, Co-Founder and COO, Radar.
4:30pm Happy hour