Turning Location into Loyalty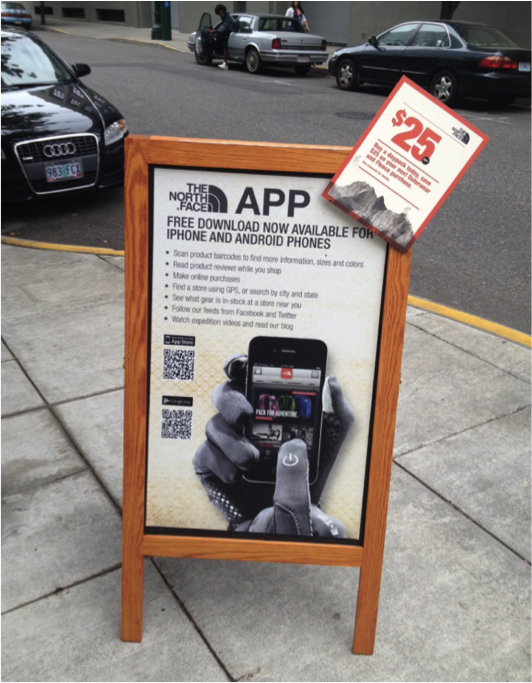 Two blocks from our office, The North Face store promotes its app to pedestrians
Every day more and more brands are putting their apps front-and-center. In TV commercials, email marketing efforts and even at retail store locations, the call to action is the same—"download our app."
That's because apps have created unprecedented opportunities to build relationships between brands and consumers. Why? The opportunity to be an icon on the home screen of smartphones means you're never more than an arm's length away from your customers. If they opt in for push notifications and sharing their location, they have told you that your content is valuable to them and you have a direct-to-consumer communications channel that, as of today, can use never-before available insight for unparalleled precision in message targeting.
Push messaging is the voice of an app, reaching consumers whether the app is open or not. We've shown how Good Push messaging can quadruple app engagement, double retention and drive double-digit sales growth. Today, as we unveil our new Location Messaging Service, we fully anticipate innovative customers will blow away these metrics using everything they know about their app users to deliver highly personalized and relevant messages at the right time and place.
Our new Location Messaging Service enables marketers to combine in-app interests with user-controlled preferences and user location profiles to define precise audience segments for messaging. These extensive location profiles can include where consumers have been in the last minute to last year, using any combination of pre-defined real-world global location boundaries from industry-leading sources including Maponics, Nielsen DMA® and OpenStreetMap.
Today the location-based marketing discussion is stuck on social check-ins like Foursquare and geofences around your business, which either put the onus on your customer, or reinforces the traditional marketing model of blasting your agenda to whoever is around to hear it. With our Location Messaging Service, marketers can put the consumer at the center of their location-based marketing strategies to truly make targeting and messages relevant to the world they live in. It flips the script, from "Come on in, we have a sale going on" to "Those jeans you are interested in are on sale and in-stock today at both of our locations near you."
And because our geofences are made up of real-world locations versus circles drawn on maps, marketers can leverage some of the same segmentation they have used in the past to message to people that live in various cities, ZIP codes or neighborhoods. They can also go way beyond what was ever possible before to take advantage of both current location and location history. For example a stadium might choose to send people currently at the event a discount for concessions, while hitting those near but not in the stadium with a discount on last-minute tickets to the event. Resorts and destinations can message people currently in the vicinity with offers that will keep them on their properties, or send special vacation packages to people that were in the area in the last 8 months.
Winning Mark, a national political media firm based in Portland is using the new service in its mobile voter guide platform, most recently released for the Our Oregon coalition. As one example, they will be able to message to users about specific legislation or legislators impacting their region, while also delivering alerts based on where people are right now.
Mobile messaging is about quality and we're reinforcing this with our Good Push campaign. Location information becomes one more piece to the puzzle of understanding what is truly relevant to your customers when and where it matters the most.
Subscribe for updates
Categories