Mobile App Marketing How To Series: Getting a Great App Store Rating [Urban Airship Playbook]
In our seven years (and counting!), we've worked with tens of thousands of apps and, as part of those experiences, we've seen successes as well as failures in the app arena. Our Customer Success team was created with the express purpose of working with customers to help guide their mobile marketing strategies toward that success bit. Our team shares the information we've gathered about best practices to help clients save them time and experience stronger outcomes. Over the next few months, we'll share a series of posts addressing common mobile app marketing strategy questions to walk readers through some of the most important steps and considerations for supporting and engaging your app users.
In this post, we address why app store ratings matter and to encourage fans of your app to post app store ratings.
---
Why Do App Store Ratings Matter?
Roughly 60 percent of respondents said that they "usually or always check ratings before downloading an app." A single-star jump in app store ratings can mean 340% more downloads*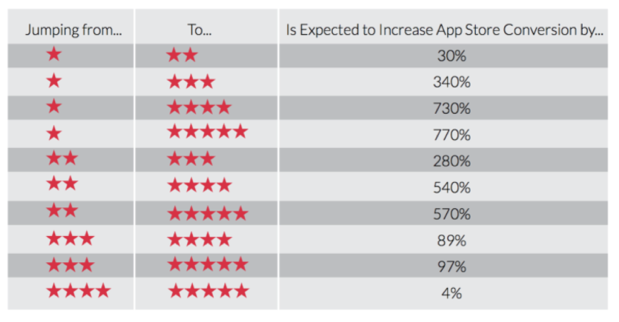 Image Source: Apptentive, Mobile Ratings: The Good, the Bad, and the Ugly
Positive app store reviews can increase organic installs, reduce acquisition costs.
Negative feedback captured within your app can improve future versions.
How To:
Trigger a targeted in-app notification asking for an app review to your best users.
Ask your best customers—those who have experienced your app by logging in, returning, purchasing, viewing content, or sharing—to rate your app.

Use these tags as automated triggers to launch an in-app notification requesting a rating.

Make a soft ask (how do you like the app?) before triggering the app store request. Deep-link to the appropriate app store if the user is happy.

Think about the "give for the get." Consider asking how you can make the app experience better for them. Be tactful, smart with the timing and placement, of your ask.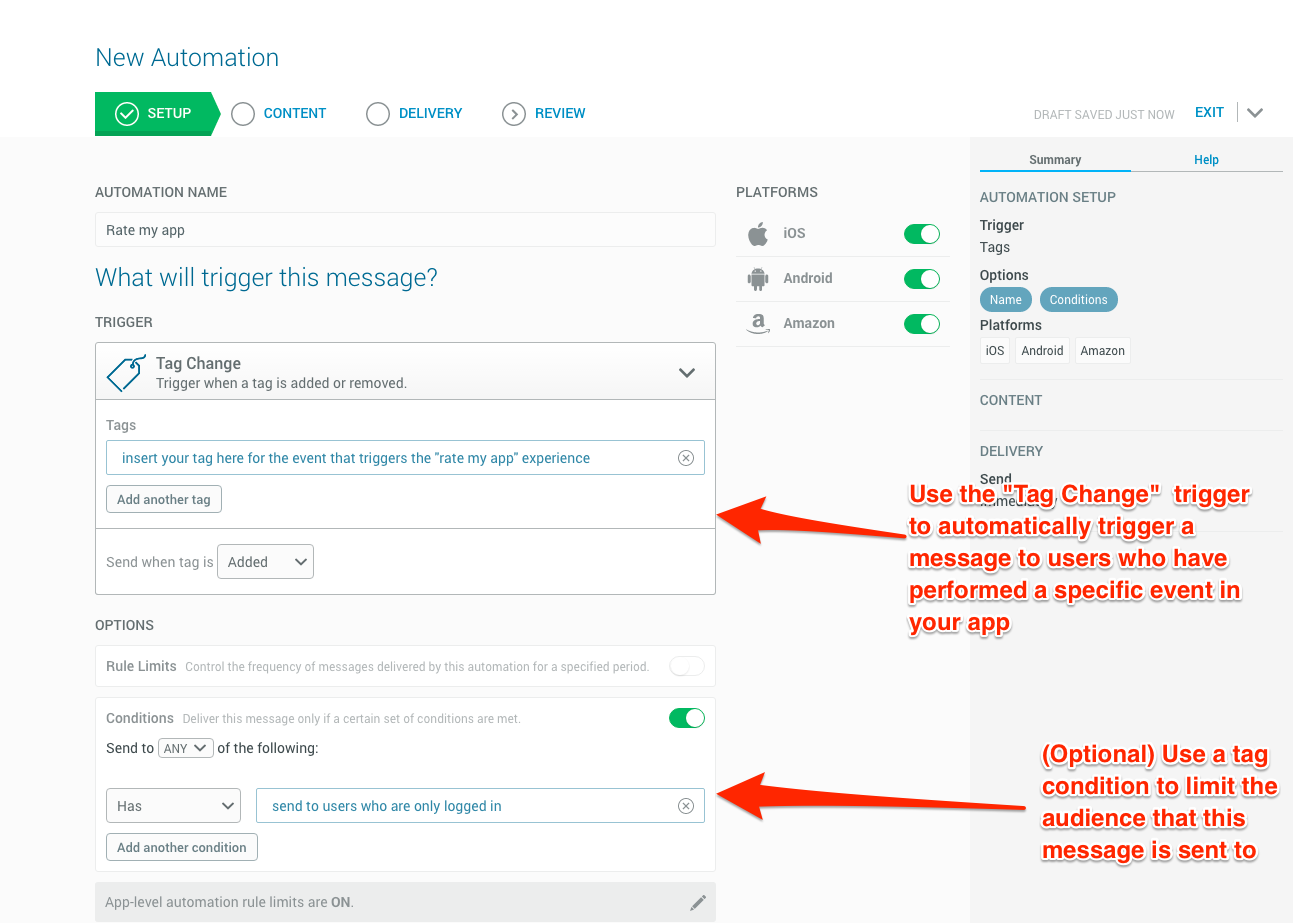 Use the "Tag Change" trigger to automatically trigger a message to users who have performed a specific event in your app. Optional: You can use a tag condition to limit the audience that this message is sent to.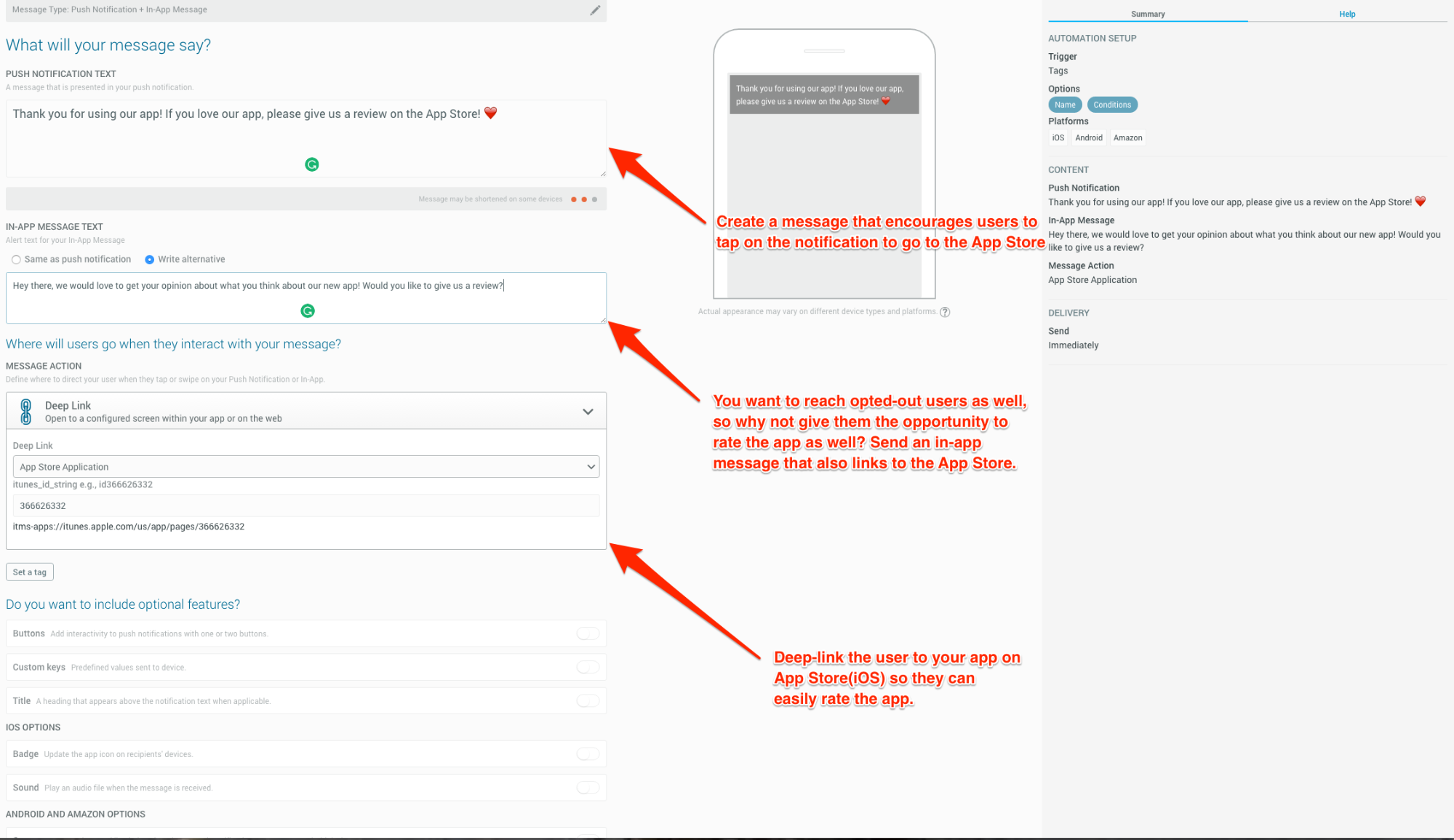 Create a message that encourages users to tap on the notification to go to the App Store.
You want to reach opted-out users as well, so why not give them the opportunity to rate the app as well? Send an in-app message that also links to the App Store.
Deep-link the user to your app in the App Store so they can easily rate the app.

Optional: Set a delay on the trigger so you're not bugging the user right away.
Confirm everything looks good, make adjustments as needed, then hit the "Start Automation" button to kick it off!
Best Practices:
Test what tags generate the most click thrus for app reviews. Are sharers better reviewers than purchasers?

Set a limit your ask.

For users who don't love your app, consider asking for constructive feedback via a mobile landing page or as a follow up via email.
Technical Requirements:
SDK version: 6.0.0+

Tags to target/segment your audience (for example: logged_in, purchased_x_product, viewed_x_content, shared_content, etc.)

Custom events relevant to your users (for example: purchased_x_product, viewed_x_content, shared_content, etc.)
Implementation Examples: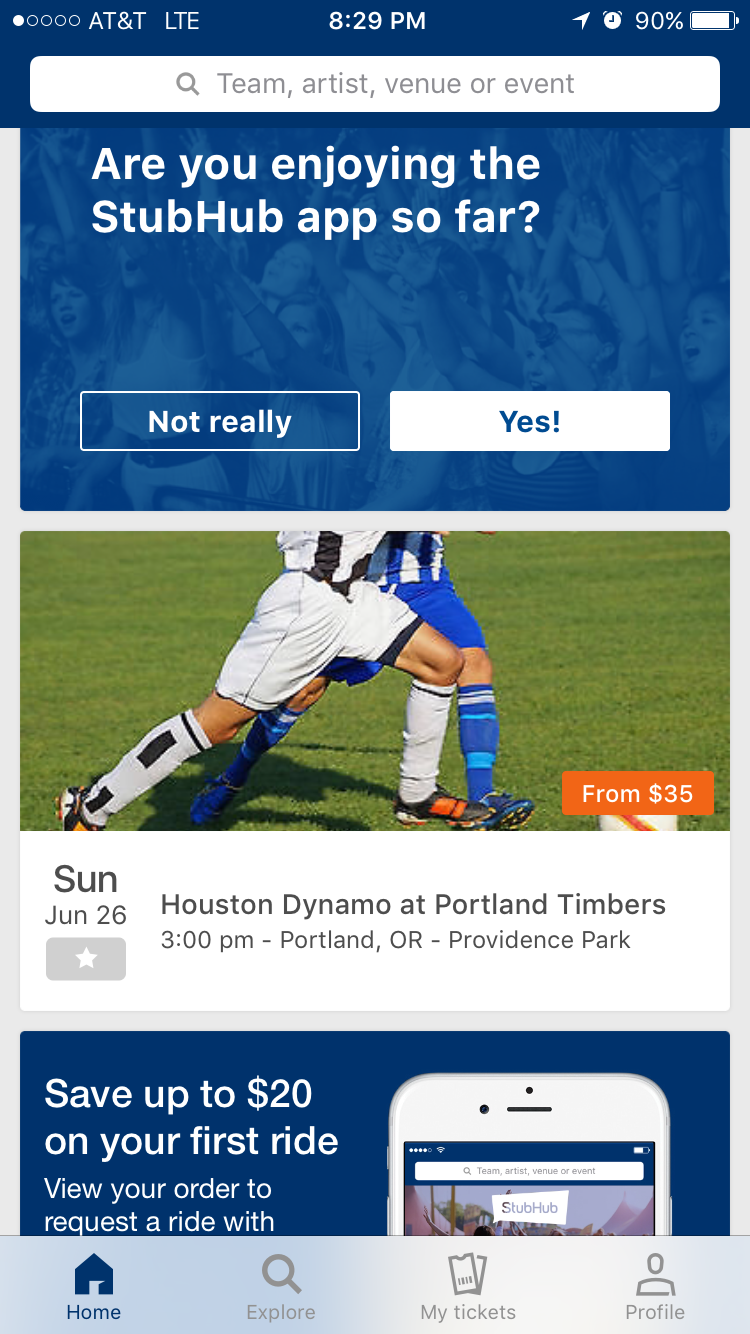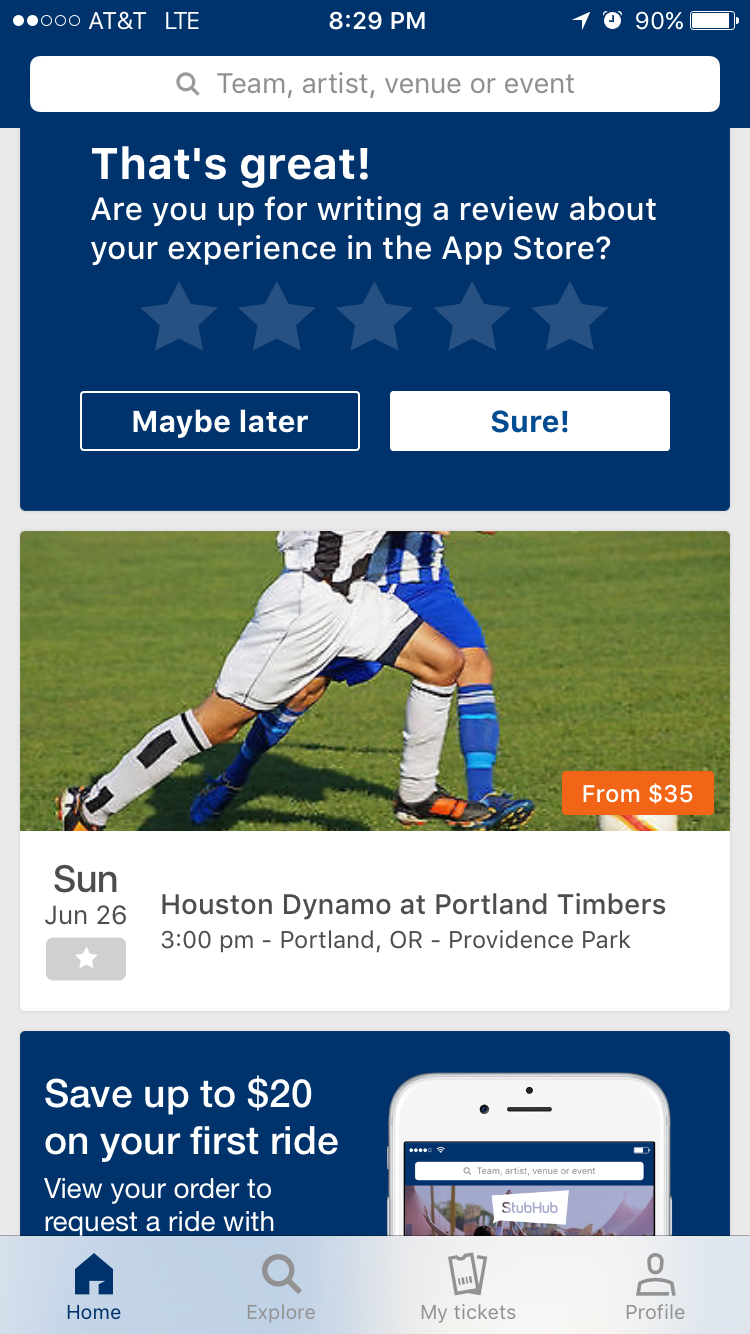 Mobile Marketing Strategy: Your Next Steps
We've got a lot of resources on this topic! The links below offer additional technical advice on getting started.

Technical Resources
Subscribe for updates
Related Posts
Categories