Delivering Happiness Through Newsstand Publisher
When Apple released its Newsstand feature to manage app subscription content, a major development for the publishing industry, Future PLC approached Urban Airship to quickly and effectively implement the new technology.
Leveraging Apple Newsstand's interface, Future PLC automatically delivers the right content to each of its subscribers based on their individual subscription terms. By using Newsstand Publisher, Future PLC easily set up purchase and subscription options within the app to automatically deliver new issues to its eager readers.
"Urban Airship helped us get to market quickly, and we gained a competitive advantage because of that. Their technology and responsiveness are both very, very good, and the team was easy to work with from the get-go." -Richard Walker, Director of Consumer Revenues, Future PLC
Subscribers receive a push notification to alert them when new content is available, which led to an immediate and ongoing engagement lift. In just 45 days after launching with Newsstand Publisher, Future PLC achieved 100,000 purchases and $1 million in revenue growth, eight months ahead of schedule.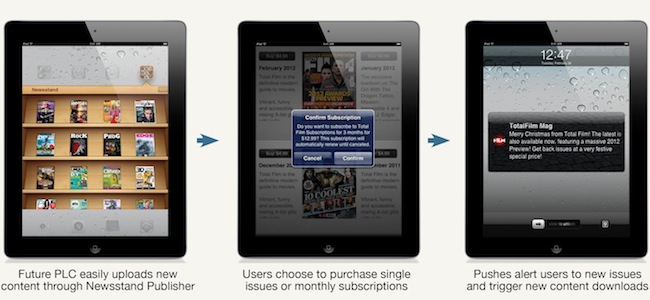 Visit Future PLC's website to browse their portfolio, or browse their apps for iOS.
Subscribe for updates
Categories