Customer Spotlight: Apps World Europe Helps Attendees Navigate the Massive Event and its Networking Opportunities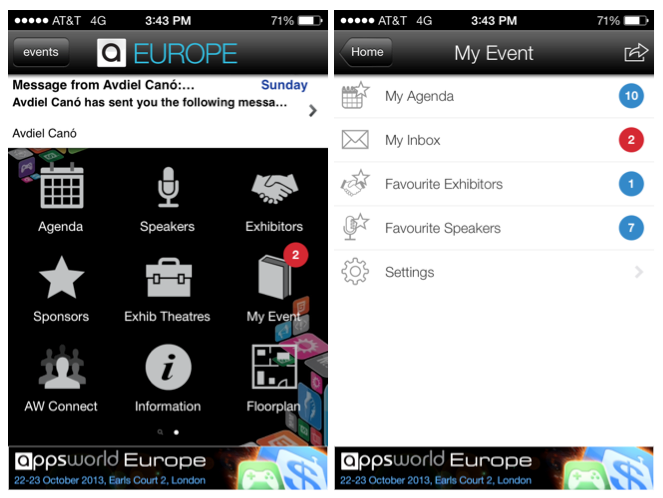 Apps World, the leading global multiplatform event in the app industry, is set to kick off tomorrow for a two-day event. The conference attracts developers, mobile marketers, mobile operators, device manufacturers, platform owners and industry professionals, who will convene in London to gain insight on the latest trends, solutions and best practices shaping the industry. With app revenues expected to reach $25 billion this year alone, there's no better time to gain increased knowledge on the world's largest growing industries. In fact, Forrester reports that more than 900 tablets and 3 billion smartphones will be in circulation by 2017, with most of the growth coming from emerging markets in Asia, Latin America and Africa.
The Apps World team joined forces with GenieConnect, a provider of event participation solutions, to develop the Apps World app. Features include access to the full event agenda, speaker and exhibitor listings, booth information, and a map for easy navigation during the event. In addition, users are able to easily connect with exhibitors through the in-app messaging platform, increasing networking opportunities. Users are also able to arrange meetings directly within the app by choosing the exhibitor by name, then selecting a date and time they want to speak with them.
Utilizing GenieConnect's event software solution, Apps World has been able to develop a truly personalized, targeted app experience for their users. Attendees are able to generate their own personal agenda by selecting the sessions and exhibitors of interest that are then added to their calendar within the "My Event" page.
Apps World is expected to utilize push notifications during the event, enabling attendees to be alerted to the most important and relevant information while at Earls Court. Attendees will receive push notifications alerting them to new messages in the in-app inbox, as well as up-to-the-minute alerts informing them of meetings requested by other users including exhibitors, speakers and attendees.
With this year's keynote speakers including the likes of Steve Wozniak, Trip Hawkins and Brent Hoberman, the event is sure to inspire the next-generation of branded mobile experiences and results-shattering mobile marketing campaigns. Download the free app for iOS and Android to help you get the most from this two-day event.
Subscribe for updates
Categories